So last night was very eventful. After a lot of tears and faux cursing (you know...things like DRATS! DANG IT! SERIOUSLY?!?...things like that...) on the Hub's side we finally figured out crown molding. He's gonna do a tutorial on it 'cause seriously...everything we read just did.not.work. Unless you're a contractor and this is what you do for a living. Then I'm sure it would make sense. We however....? Are not.
So little brother saved the day. I love calling my brother little brother...'cause he's 6 feet tall. Not really so little. He's skinny as all get out but does kinda tower over me...and I'm not really short. I think he seems taller 'cause he's so skinny. You know what I'm talking about? ANYWAY! I digress. Little brother came over. He had previous experience cutting and installing crown molding. Yeah...we should have called him to begin with. Then we would have had less of a reason to faux curse. And I got to chat with sister-in-law. And that was really fun. And sister-in-law is quite possibly one of the Princess's favorite people in the world so she was a little angel all night long. Even when she was rubbing her eyes towards the end.
BUT! That is a post for another day. And trust me...it'll be a good one. The post for today is all about bowls. In particular...these bowls.
More particularly...THIS bowl...
Um...I think I really really need a couple of these for my new kitchen. I adore that gray with the blue lip. Seriously...love.
I'm also loving this one...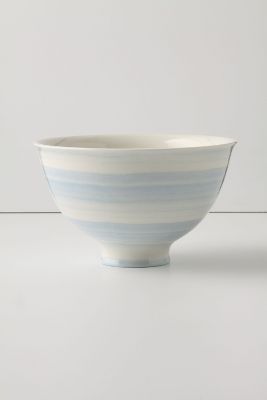 And this one...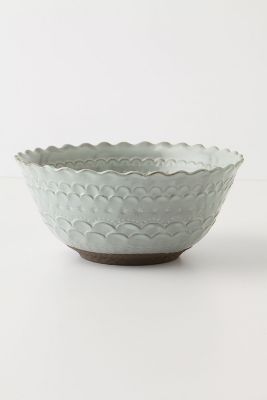 Cause you know...I've realized the kitchen is going to be finished before I know it and I'm going to need some things to make it pretty. And with my dishes being on open shelves....yep, I'm getting some new ones. But I have a surprise for you in regards to that. And I'm DYING to share...but I just can't. So you'll have to just be surprised.
And stay tuned...more on crown molding coming up this week with another sneak peek on how the kitchen is progressing...