Ok...so staining wood floors. NOT as easy as staining furniture. If you remember from
this post
we had a lot of work to do. We had to start completely over...as in re-sanding, re-staining, re-waiting...is that a word? It was not pleasant.
BUT!
We noticed significant differences the 2nd time around. Wiping off the excess stain was soooo much easier. Also, the stain actually penetrated! I know typically that wouldn't be a big deal but after doing it all once...that's a BIG deal. :)
So. Here's what we did.
We used stain stipper to get off all the stain that we had previously put down. NOT a fun job. Luckily...I didn't have to do it, the Hubs did it but still, watching all that stain come up...yeah, almost made me tear up again. And boy oh boy was it NAS.TY! It was just so gross and gunky. And it took quite awhile to get up. The hardest place to get up was around the edges. But luckily it came up and we got back to our floor.
We went and got the sander again and I have to say...the manager of the rental center at Home Depot was awesome. He heard what happened and only charged us for the sanding pads. He also told us that with any questions we had...he had 25+ yrs of experience in construction and he could answer anything.
The good thing was that we didn't have to go through all of the different grains of sandpaper again...we just had to use 2 to get the sealer off. That was great. So the floor was sanded again. THIS time, no sanding sealer. :) We cleaned it up and went straight to the stain. It did take a little less than it did before since I had 8 hours of previous experience. Haha! Just one thing I want to point out. The instructions do tell you to make sure you stir the stain a lot throughout the process. Yeah...that is pretty important or the stains possibly might not match. We have one patch where we had to switch stain cans where the stains don't really match up. Not pretty. Luckily...it is where the built-in's are going so no-one will notice. :)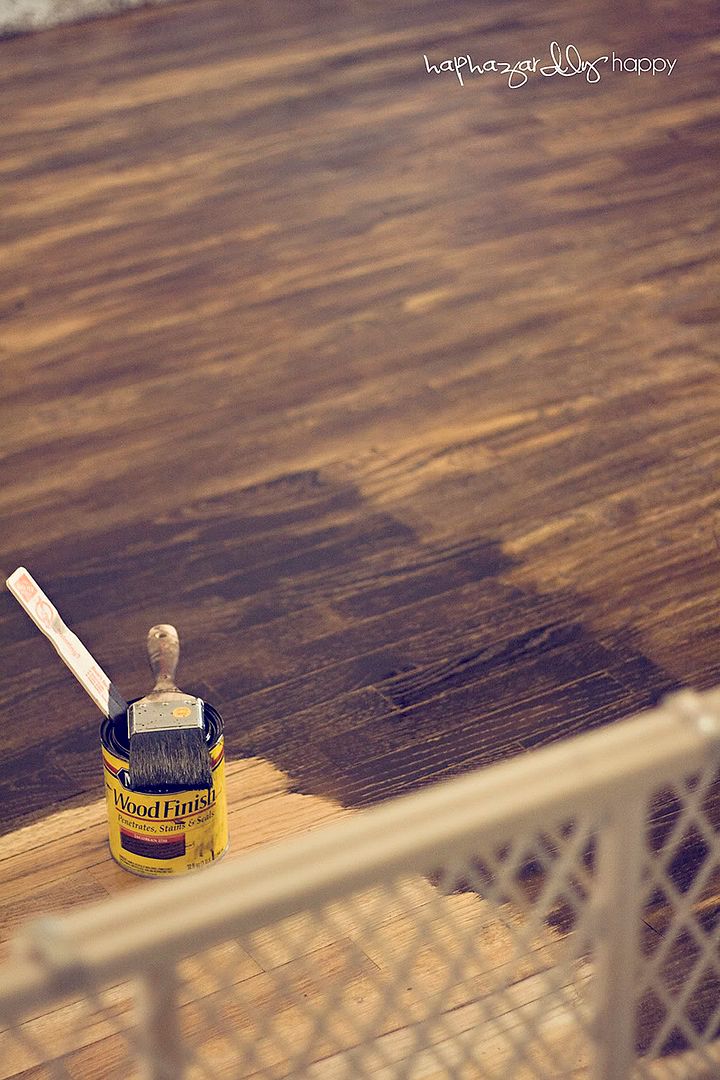 But I have to say...I LOVE the color! So pretty. It did take 2 coats to get where we wanted. But now it is beautiful.
So the stain is done. And I was going to take an after picture but the Hubs was too excited and painted the room it's new color before I was able to get there. Whoops! But since Phase 3 is all about paint so you'll get to see that coming up soon!